Wall Art Festival
Bringing passion and colours
to the streets
Wall Art Festival is a colorful journey that intends to gather French and Indian artists in a mutual passion for wall paintings, bringing new shapes and colors to the streets!

Street art and urban Culture generate enthusiasm both in India and in France. India has a long history and tradition of wall art in numerous regions of India, exposing to the World the infinite richness of its cultures. France has a very strong and historical urban art scene (graffiti, hip-hop dance, rap…) and is a proactive country in redesigning permanently the face/shape of its cities. Both countries have many internationally recognized artists in these Wall art and Urban culture scenes. The street art movement is also at the core of the reflection which redefines equality and expression of all, in the public space of our modern societies.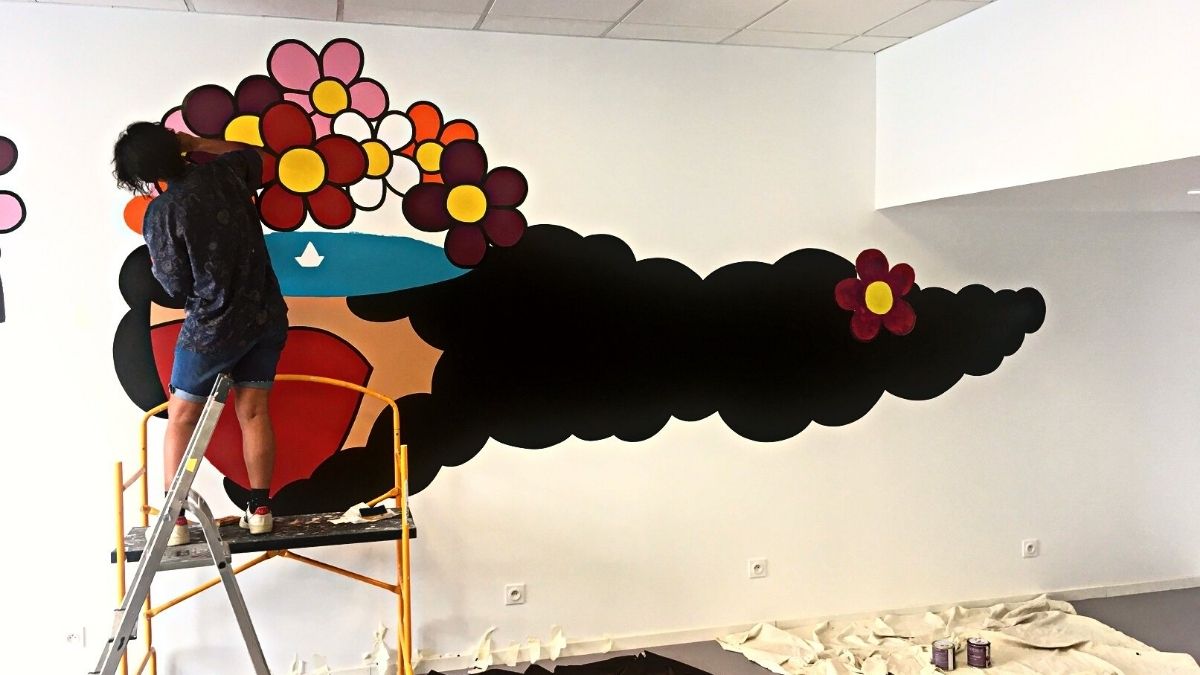 Through many events (murals, encounters, contests…) our Wall Art Festival, crossing many parts of the country (Delhi, Mumbai, Kolkata, Bangalore, Bhopal…) aims to put under the light that in 2022 equality is not a choice but a necessity.
Lili Totas on tour
Click on your city to see the details
SKIO on tour
Click on your city to see the details
About the artists
Lili was born in Brazil and raised in Honduras. She has been living in Lyon since 2003. Uprooting is the source of her creativity. She has chosen to express through street art techniques using bright colours and round and soft shapes: many nostalgic representations for a political and social claim. It is also the femininity of a committed citizen that she evokes. The eye, the feet, the clouds, the Klein blue sky, the boats, the daisies are recurring and constitutive elements of a complex pictorial staging. This disproportionate mouth, carmine red, present in all her creations is her voice, the one she would dream of lending to all those who dare not express themselves. Each creation is a universe. You have to read it in all its depth go beyond its apparent innocence.
Skio​'s first murals appeared In 1993 in the Nice region, starting with mural letterings before moving on to figurative romantic topics fed by his pop and TV culture.
Today the works of artist ​Skio​ (who studied to be a designer), mixing geometrical shapes and realistic portraits featuring obfuscated eyes, question our presence in the urban landscape by creating new modern and harmonious esthetics.
Inspired by ​Skio​'s love for the Bauhaus movement and surrealism, his creations have their own style aiming for a rare balance between geometry, anatomy and colour through the exploration of minimalism's complexities. Augmented by ​Skio​'s proficiency with spray painting as well as paintbrushes and digital tools, they range from large formats on city walls to canvases in his workshop, as well as spatial installations.
Shown in numerous festivals all over the world (Paris, London, Mexico, Shanghai…) for the last twenty years, ​Skio​'s creations, thanks to his sensitivity and sense of assembly, make him one of today's major upcoming artists.
About our presenting partner
JSW Paints, India's environment-friendly paints company and part of the diversified US$ 13 billion JSW Group. JSW Group is India's leading business group with interests in sectors such as steel, energy, infrastructure, cement, sports and venture capital. Launched in May 2019, JSW Paints aims to inspire consumers to Think Beautiful as beautiful thoughts make the world beautiful. It extends "Think beautiful" to every aspect of the way the Company conducts its business, right from offering environmental-friendly portfolio of water-based paints to its thoughtful disruption of "Any Colour One Price" aimed at bringing pricing transparency to paints. The JSW Paints Buddy is another such initiative wherein consumers are offered personal attention & assistance in colour and product selection. The company currently has two manufacturing units, an Industrial Coatings facility at Vasind in Maharashtra and Decorative Paints facility at Vijayanagar in Karnataka with a combined capacity of 150,000KL per annum. Within a short span of time, it has already become the largest Industrial Coil Coatings company in India.