The objective of this training programme is to encourage translators to translate from French to Indian languages and vice versa.
This training in translation will give young translators at the beginning of their careers the opportunity to work with other more experienced translators. They will gain a better understanding of the translation and publishing landscape in both countries.
It is supported by the richness of the Alliance française network and the French departments of partner universities.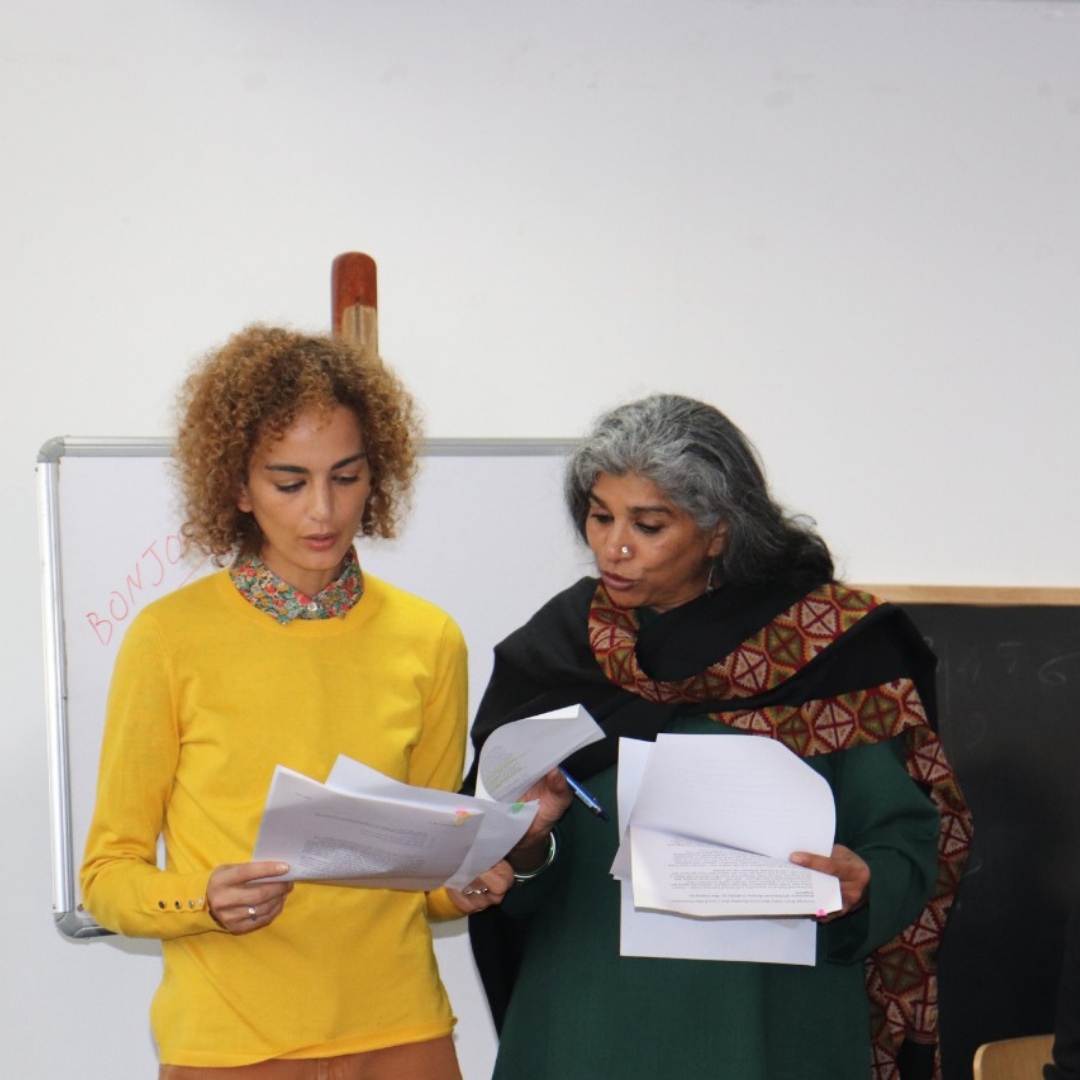 Since 2019, the French Institute in India / Embassy of France in India has organized a one-day training workshop on translation on the eve of the Jaipur Literature Festival.
In 2019, the training was facilitated by Ms. Ros Schwartz (Translator) and coordinated by Ms. Christine Cornet, head of the Book Office. The trainees worked on an abstract of Zabor, a novel written by Mr. Kamel Daoud, invited at the Jaipur Literature Festival. Click here to view the photo gallery.
In 2020, the training was animated by professional translator Ms. Renuka George and Ms. Leila Slimani, Moroccan-French author & personal representative of French President Emmanuel Macron to the Organisation Internationale de la Francophonie. Leila Slimani won the Goncourt Prize for Une chanson douce, translated in English, Bengali, and very soon in Hindi. She was invited in 2020 to the Jaipur Literature Festival. Photo gallery.
In 2021 & 2022, Four Translator factories were launched in four different Indian languages – Hindi, Bengali, Malayalam & Tamil. After the overwhelming response from the students of translator factories in the previous edition, the second edition of the French-Hindi & French-Bengali translator factory were launched in June & July 2023 respectively. And, other languages' second editions are also to be launched soon.
Objectives:
To improve the quality of translations from French into Indian languages & vice versa in order to make the contemporary literature from both countries more accessible in one-another's country.
To retain a group of francophone translators.
Language programs
The program consists of 6 online workshops, of 3 hours each, conducted every month by a renowned translator.
Ongoing programs
French to Hindi – conducted by Ms Annie Montaut from 17 June 2023 to 18 November 2023.
French to Bengali – conducted by Professor Philippe Benoit from 19 July to 23 December 2023
Previous programs
French to Malayalam – conducted by Ms Dominique Vitalyos from 19 October 2020 to 14 June 2021
French to Hindi – conducted by Ms Annie Montaut from 10 December 2020 to 10 August 2021.
French to Tamil – conducted by Ms Leticia Ibanez from 1 July 2021 to 1 March 2022.
Workshop Gallery 2020
Workshop Gallery 2019