e-Space France is a network of promotional spaces settled in Indian Colleges, Universities, Public Schools, Cultural Centre, where there is a desire of France for information on French Language, Culture, Study or Tourism. e-Space France is an easy, cozy, friendly place with an interactive media zone, a French library and a qualified manager who proposes a variety of French cultural activities and inquires about studies in France, French language courses and French culture.
The objective of e-Space France is to outreach more mutual knowledge of France and India in language, culture and education but also to tap the student potential on-campus and professionals who have a desire of doing business with France or any person who would love to travel in France.
The French Institute in India signed an MoU with OP Jindal Global University to establish an E-space France on their campus. This initiative gives Indian students accessibility to French literature, cinema, arts, debates, digital resources and facilitate student exchange between the two countries.
Therefore, the E-space France is a significant step in strengthening the Indo-French partnership in terms of education and culture. Mr Emmanuel Lebrun-Damiens, Counsellor for Education, Science and Culture at Embassy of France in India & Country Director of the French Institute in India, and Prof. (Dr) C. Raj Kumar, Vice-Chancellor of OP Jindal Global University, presided over the signing of the agreement.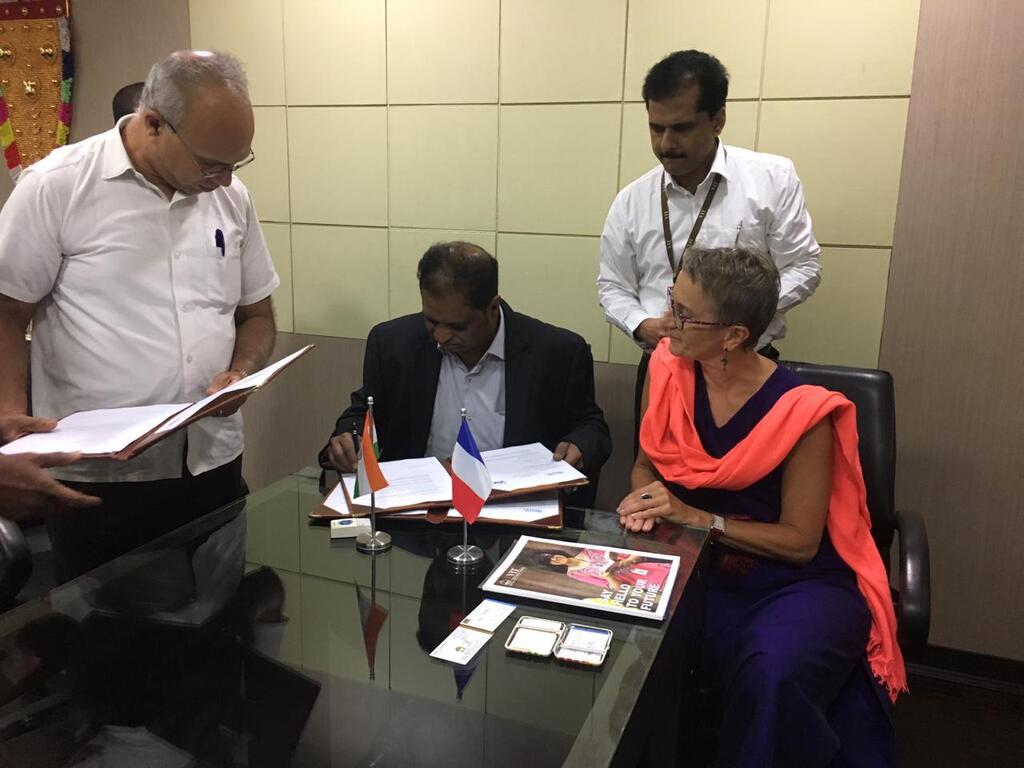 An agreement was inked between the Vellore Institute of Technology, Vellore and the French Institute in India for the establishment of the very first 'Espace France' in South India. VIT Vice President, Mr. Sankar Viswanathan, signed the MoU in presence of Mrs. Christine Cornet, Attaché for Books & Ideas at IFI. A space dedicated entirely to students, 'Espace France' will facilitate their discovery of opportunities in higher education in France as well as the French language and culture
Dr Bertrand de Hartingh, Counsellor for Education, Science and Culture, French Embassy in India and Mr Aman Mittal, Associate Director, Lovely Professional University – LPU, signed an agreement for the establishment of an 'Espace France' – an educational and cultural space dedicated to France, on the LPU campus. The space was inaugurated in September 2019 tol enable students of the university to not only about the French language and culture but also about higher education opportunities in France.
Image Gallery