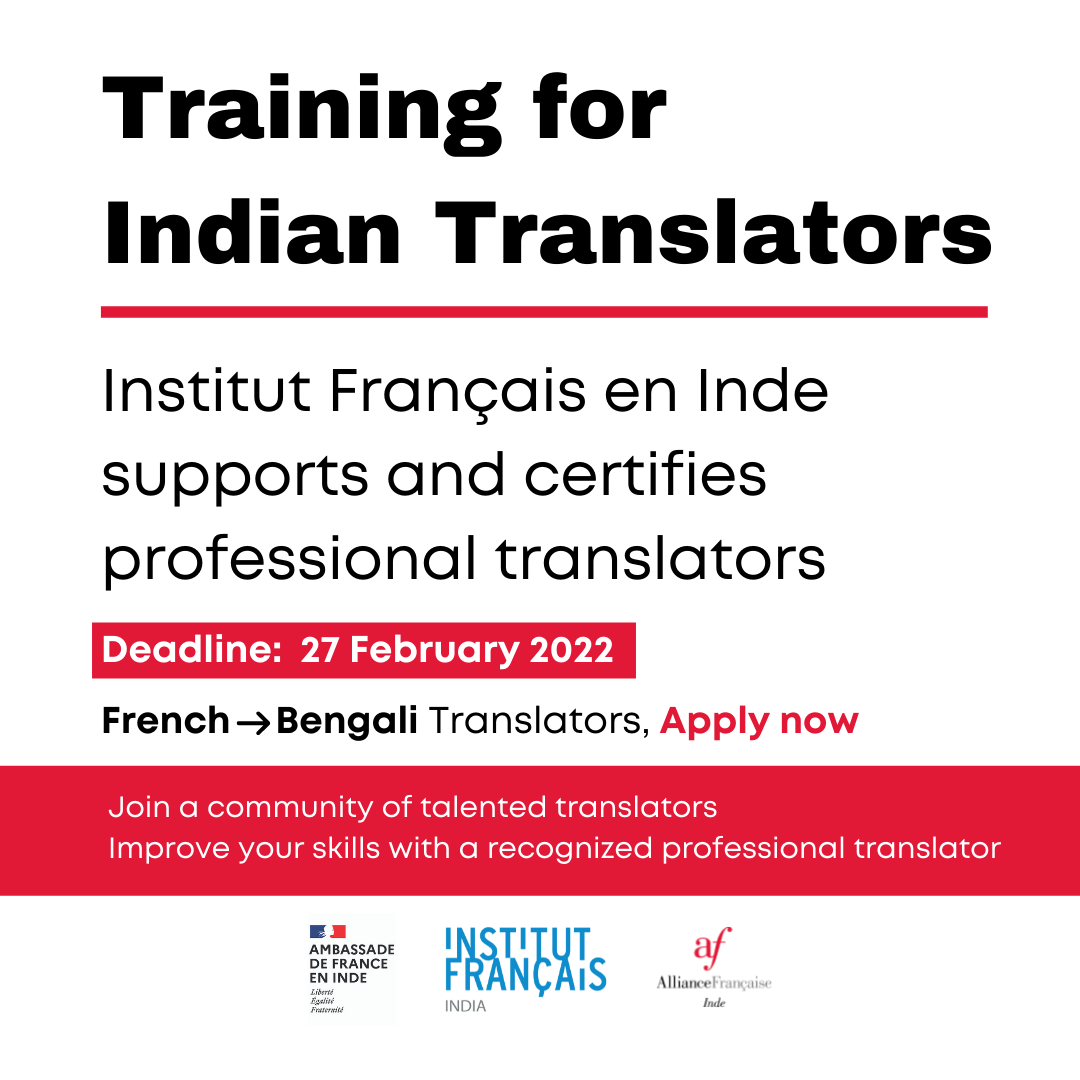 CALL FOR APPLICATIONS
This program aims at giving young translators at the beginning of their careers the opportunity to work with other more experienced translators and to gain a better understanding of the translation and publishing landscape in both countries. The workshop is aimed at students, professors and professionals, 
Of Indian or Bangladeshi nationality
Having a minimum B2/C1 certification in French language
With experience in translation
☑ Objectives of the workshop:
To be identified as a new talent
Be part of a community of professional translators
Improve your writing skills with a recognized professional translator
Get personal feedback and advice between sessions to develop and update your skills
Be certified by the French Institute in India
Be selected for a residency in India.
☑ Conditions:
The training will be conducted by Professor Philippe Benoit
The training will be divided into 5 sessions, one every two months, with individual tutoring between two sessions
The duration of each session is 3 hours
Literary genres: fiction writings from French to Bengali
Project: 2 pages from a book already translated by the applicant (French to Bengali) or a translation from French to Bengali of 2 pages from any literary work need to be submitted along with the application along with the original text in French
☑ Application:
Fill out the below form.
Send the following supporting documents to

[email protected]

:
CV
French diploma (highest level obtained)
University degree(s)
Supporting documents about your translation experience
Maximum 2 pages of a translation project of a French title into Bengali along with the original text in French
Your application will only be considered upon receipt of your supporting documents.
Application deadline: 27th February 2022
Selection will be based on the quality of the project. Each candidate must attentively read the application form where information on his/her professional background will be requested.
☑ Participation fees:
6000 INR payable to the Institut Français en Inde by brank transfer (only for the selected candidates)
☑ Calendar:
1st session: Friday, 25th March 2022
2nd session: Wednesday, 25th May 2022
3rd session: Monday, 25th July 2022
4th session: Monday, 26th September 2022
5th session: Friday, 25th November 2022
☑ Contact:
Person in-charge: Christine Cornet, Attaché for Books and Ideas, IFI
Contact: Akriti Ahluwalia, Project Coordinator
Mail: [email protected]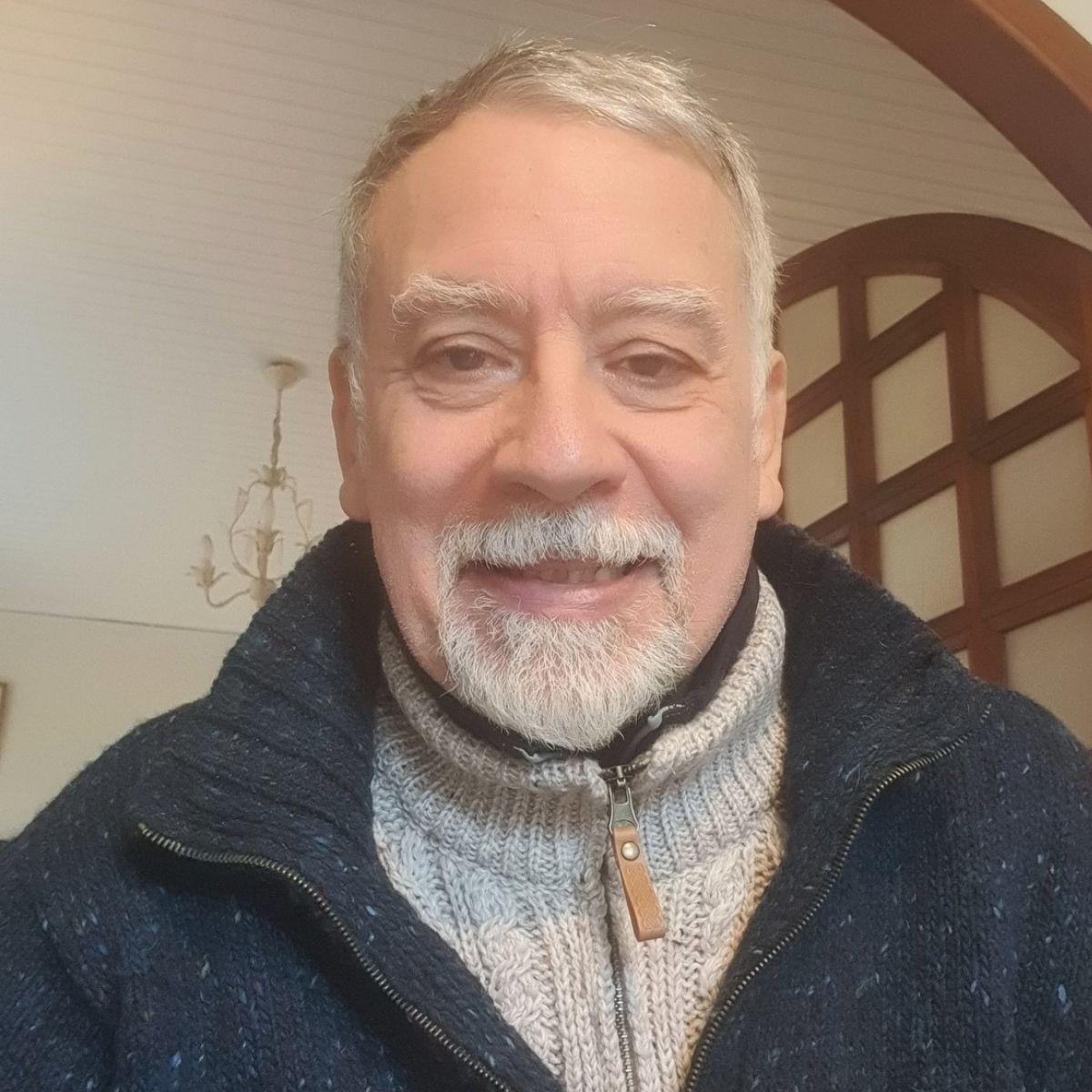 Philippe Benoit
Born in 1958, Philippe Benoit is a literary translator and professor of Bengali and Sanskrit at Inalco, Paris since 1997. He was formerly a professor at the Alliance française in Calcutta (1983-85), the University of Lille (1987-89) and at Paris-3, La Sorbonne Nouvelle (1995-97). He was also a French-Indian fellow at the University of Jadavpur, Calcutta (1989-92). He has translated from Sanskrit to French: Le Ramayana by Valmiki, La Pléiade, Gallimard, 1999, and from Bengali to French: Numerous works by Taslima Nasreen (between 1994 and 2005, published by Stock, then Philippe Rey), notably Enfance, au féminin (Stock, 1998), novel by Sankar, Chowringhee, Gallimard, 2013, several episodes of Feluda, by Satyajit Ray: Feluda mène l'enquête, Slatkine, 2018. His most recent translation is Journal de prison by Sheikh Mujibur Rahman, Slatkine, 2021.