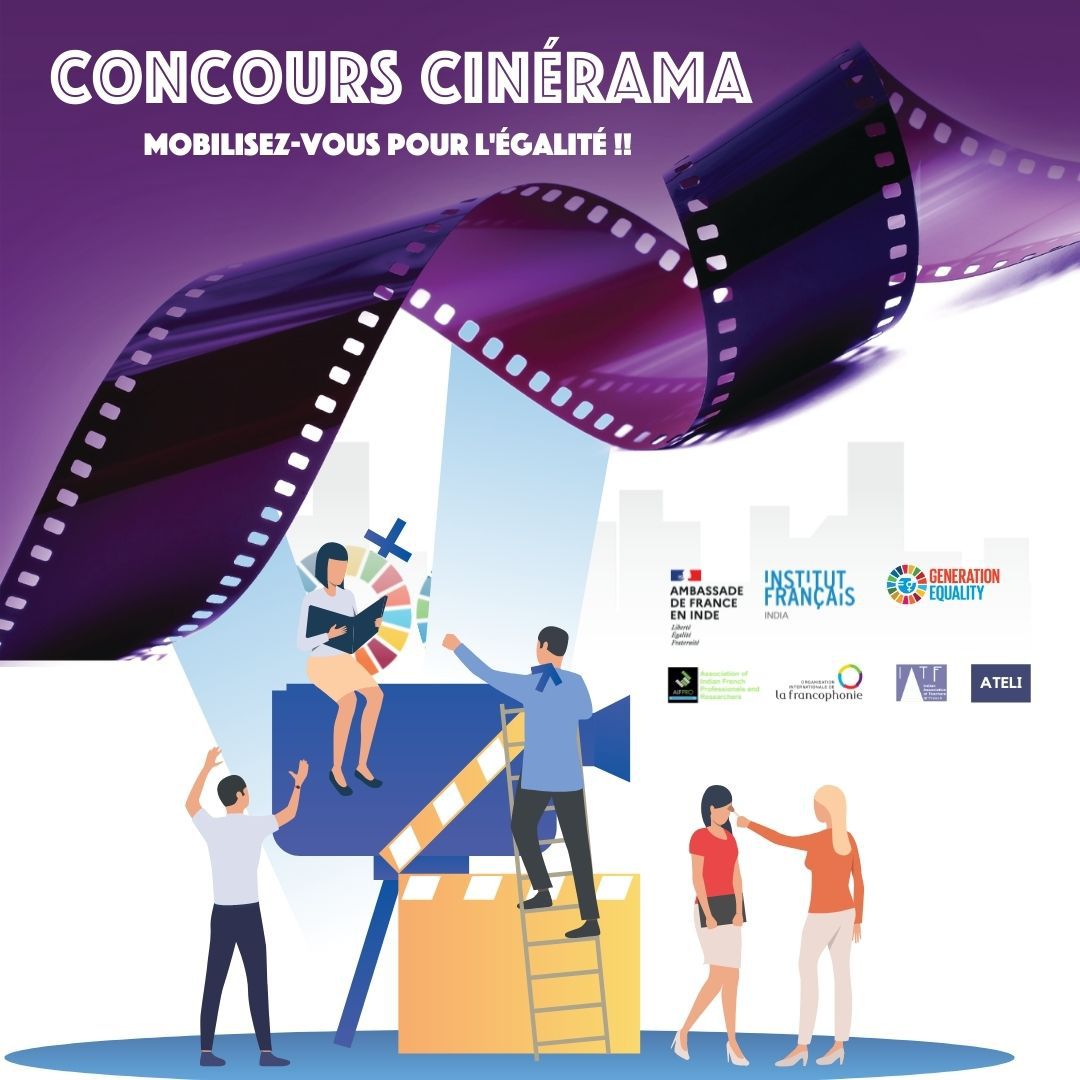 The "Cinérama" competition is organised by the Institut Français in India (IFI) with the participation of the network of Alliances Françaises in India. This competition is open to students of French in schools, universities and Alliances Françaises in India, in coordination with at least one of their French language teachers.
 The goal is to collectively produce a video of free form (clip, report, fiction, …) and to exchange the different perceptions around the theme of inclusiveness and equality between individuals.
This competition is organized on the occasion of the International Women's Rights Day on March 8, 2022, and Francophonie month.  It aims to raise students' awareness of equality, the fight against discrimination and to appreciate the cultural, linguistic differences of the Francophone world.
This competition will also help students to learn how to create a film using their creativity and show their expertise in using different digital tools (smartphone, tablet, camera, etc.)
This competition is open to students of French:
Category 1: 14 to 16 years old (schools – grades 9 to 12 and Alliance Française in India)
Category 2: Over 18 years old (University and Alliance Française in India)
Participation Requirements:
Groups of 2 to 4 students

Group coordinated by a French teacher

Maximum of 2 groups per school
In partnership with:
The network of Alliances Françaises in India
Indian schools
Indian universities
Associations of French teachers: Indian Association of Teachers of French (IATF), Association of Indian French Professionals and Researchers (AIFPRO), Association of Teachers of European Languages in India (ATELI)
Calendrier

15 February 2022

Last date for registration

18 to 25 February 2022

Webinar for participating students & teachers about the creation of the video

4 March 2022

Last date for submission of the video clip

9 to 12 March 2022

Preselection of top 6 films per category by the jury

14 to 18 March 2022

Selection of the 4 best films (2 per category)

2 Jury Prize Winners

2 People's Choice Winners

25 March 2022

Announcement of the results online