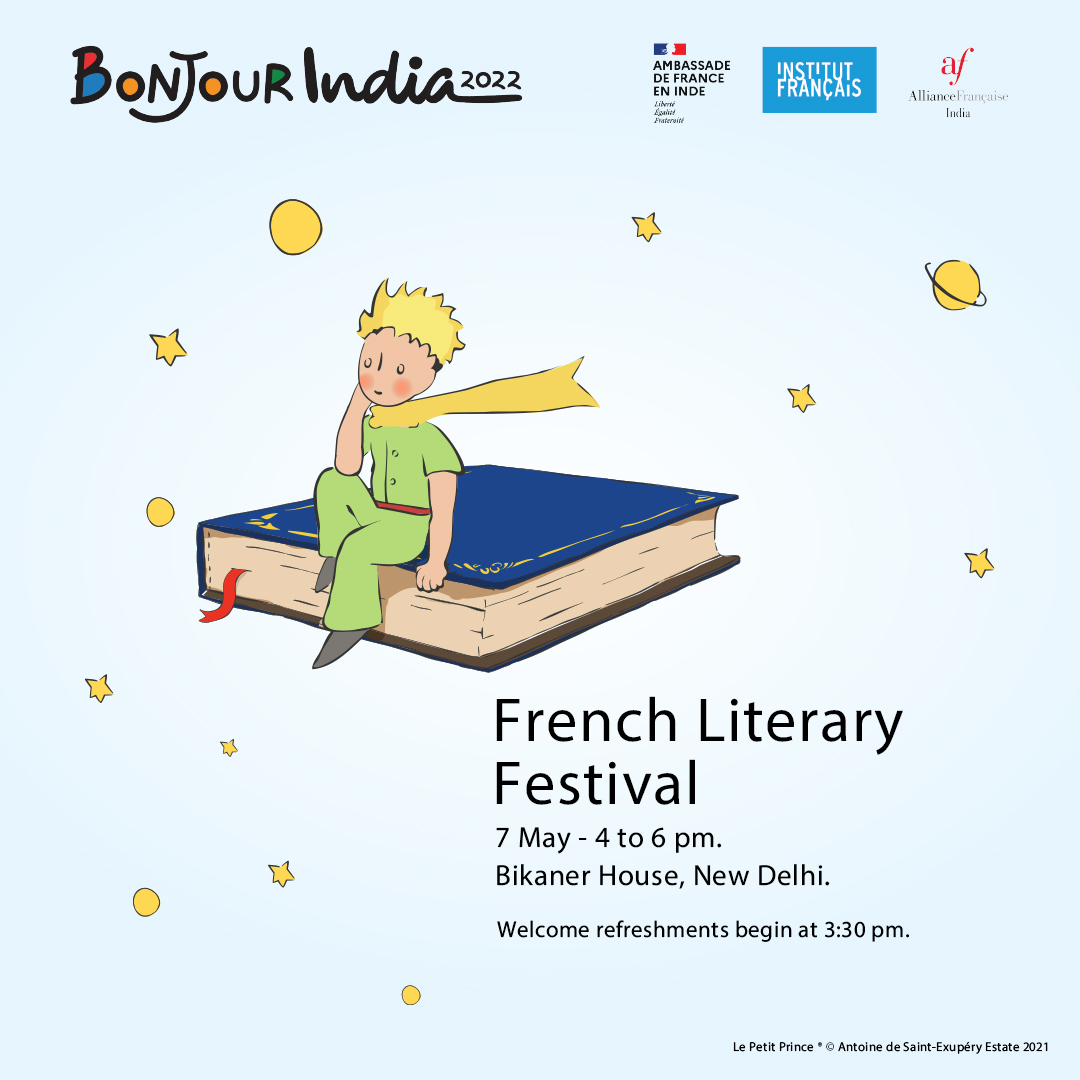 India was the Guest of Honour country at Paris Book Festival 2022. The Indian Pavilion witnessed a number of literary and cultural activities with Indian authors on tour in France.
Now, enjoy the spirit of literary encounters in your city. Meet contemporary French authors of novels and comics as part of Bonjour India.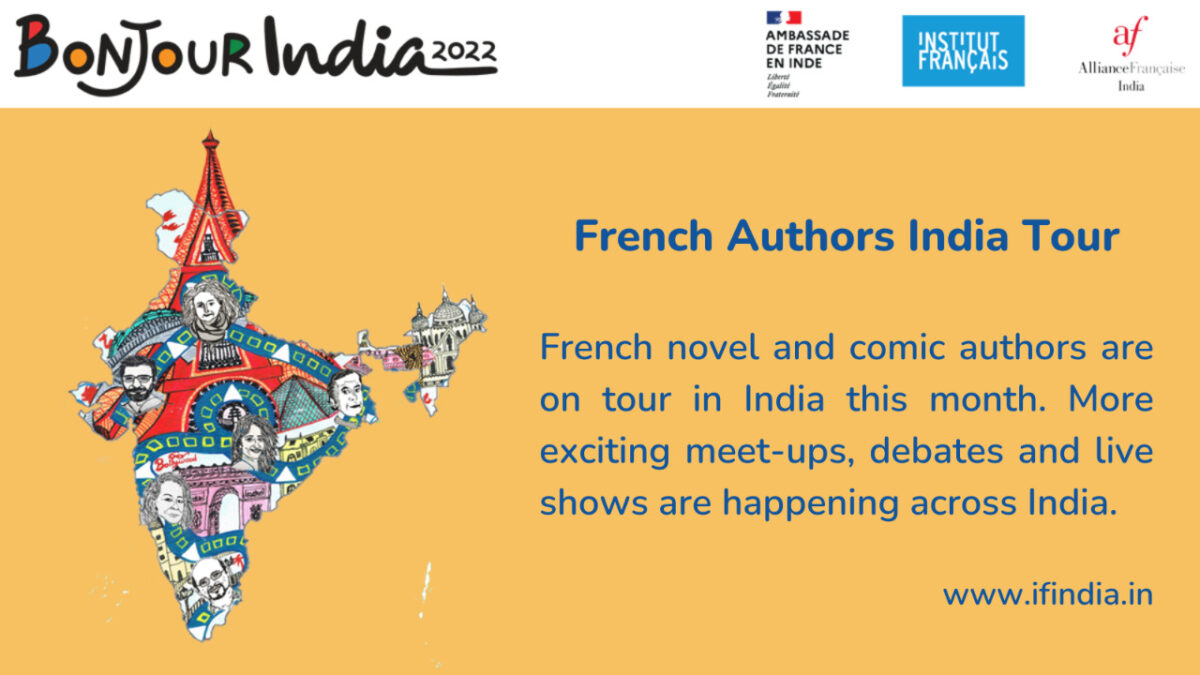 Eminent French authors, graphic novelists and children's writers bring forth a French literary weekend filled with round tables and debates on contemporary French literature and poetry at prestigious Bikaner House, followed by interactions with children and book signings at some of Delhi's most popular bookstores. A real treat for book enthusiasts!
Also, witness a literary award ceremony with the announcement of the Romain Rolland Book Prize to award the best translation in 2021 of a French title into an Indian language, including English.
Saturday, 7th May
French LitFest at Bikaner House, New Delhi
3:30 pm: Welcome refreshments
4 pm: Introduction by Ms Eva Nguyen Binh, President of Institut Français, France, and Ms Mugdha Sinha, Secretary Science and Technology, Government of Rajasthan

4:15: Round table – TRENDS OF CONTEMPORARY FRENCH LITERATURE
Come and meet 3 famous French authors who will discuss what it means to be a woman, an author and "vagabonds" of the world. Christine Jordis was born in Algiers, Patricia Loison in Delhi and Marie Darrieussecq in Bayonne. Three countries, three identities, one love: literature!
With Christine Jordis, Patricia Loison, Marie Darrieussecq, in conversation with Arunima Mazumdar
5 pm: Romain Rolland Book Prize Award Ceremony
In the presence of Ms. Dana PURCARESCU, Deputy Head of Mission, Embassy of France in India
5:15 pm: Round table – LITERATURE, POETRY & VISUAL WRITING
Writings from far and near: how a former ice hockey player François-Henri; a French teenager in the hospices of Calcutta, Tiffany; explore literature as alchemy between sport, charity and immigration?!
With François-Henri Désérable, Tiffany Tavernier, in conversation with Kaveree Bamzai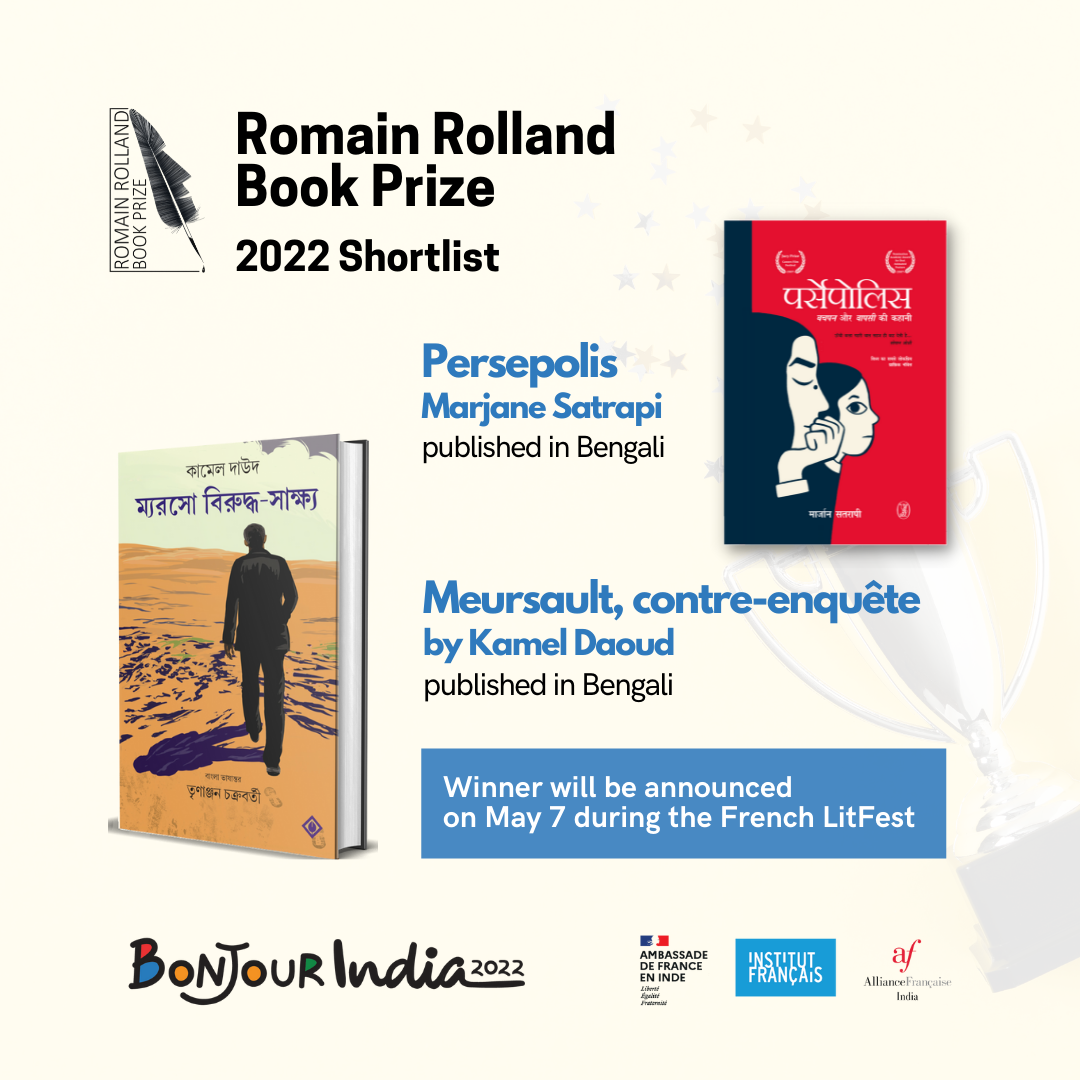 Saturday, 7th May
Romain Rolland Book Prize ceremony
5 pm | As part of the French LitFest at the Bikaner House, New Delhi
Every year, the Romain Rolland Book Prize awards the best translation of a francophone title into any Indian language, including English. The winning publisher and translator are selected by an Indo-French jury.
Shortlisted titles for the 5th edition:
Persepolis by Marjane Satrapi
Meursault, contre-enquete by Kamel Daoud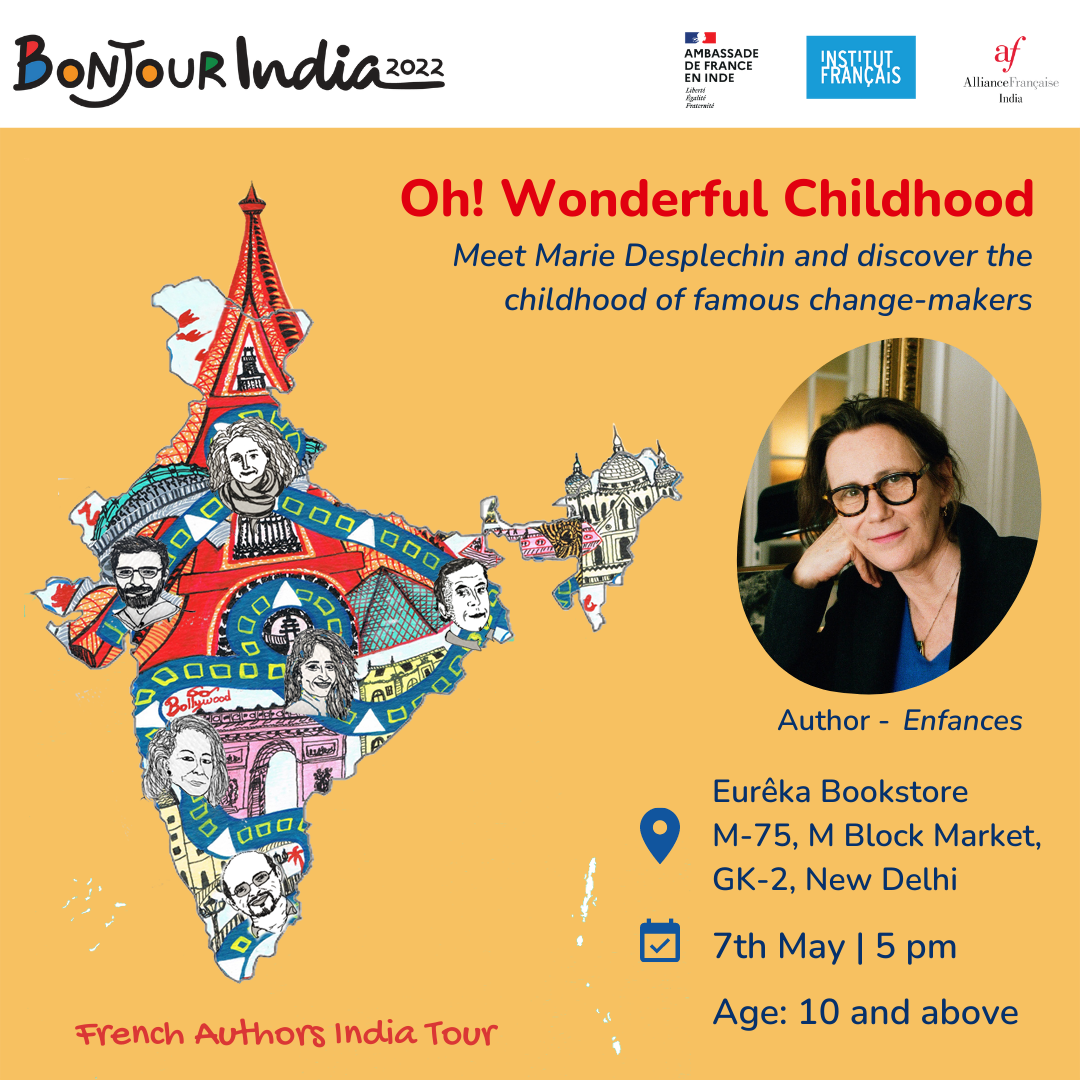 Saturday, 7th May
Oh! Wonderful Childhood with Marie Desplechin
5 pm | Eureka BookStore, M-block Market, Greater Kailash II, New Delhi – 110048
Changemakers – some belong to legends, some are from real life. They all were children once. Come and imagine the childhood of well-known personalities such as Santa Claus or the Fairy Queen, with Marie Desplechin, the author of Enfances.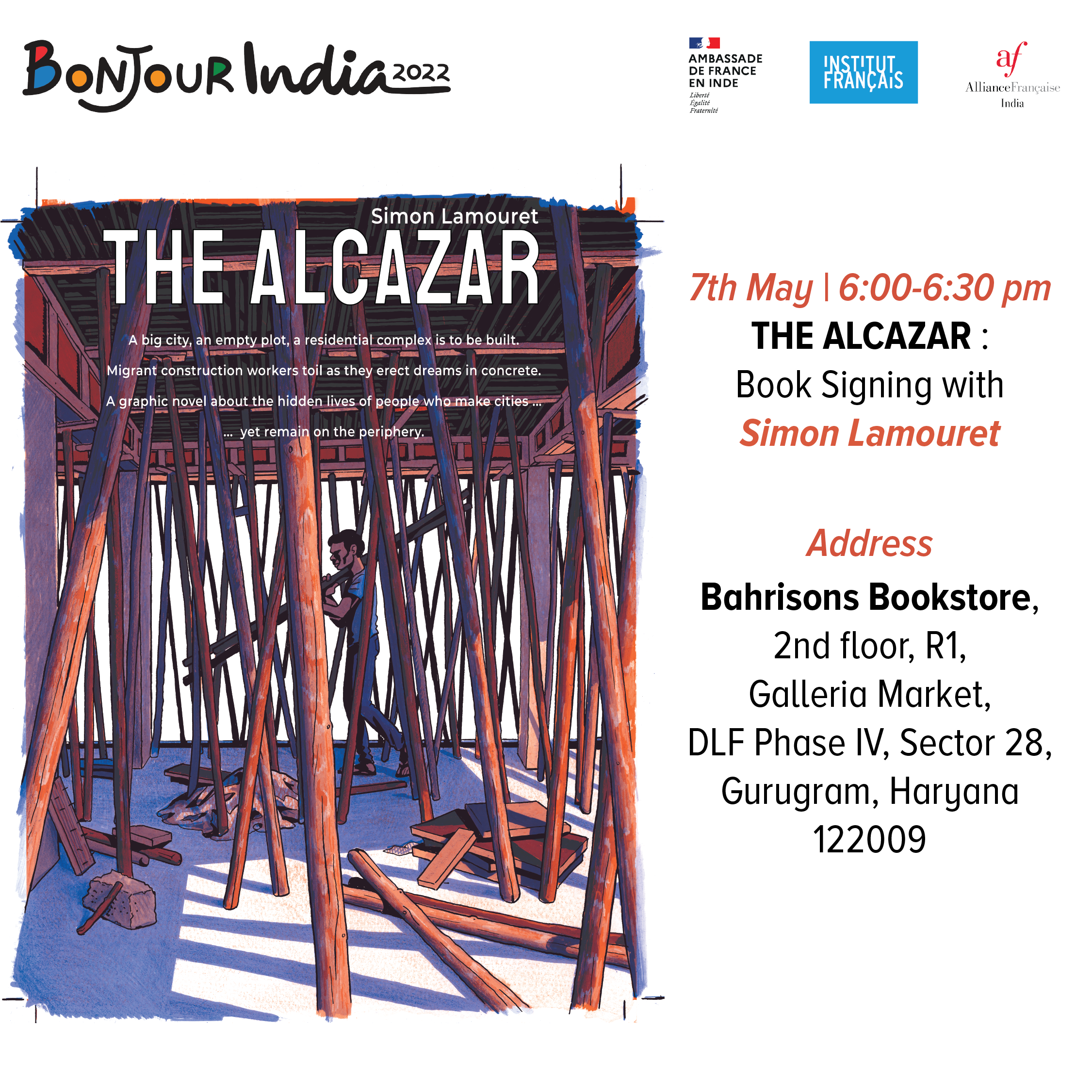 Saturday, 7th May
The Alcazar: book signing with Simon Lamouret
6 pm | Bahrisons Bookstore, 2nd floor, R1, Galleria Market, DLF Phase IV, Sector 28, Gurugram
Meet Simon Lamouret and grab the opportunity to buy a signed copy of his award-winning French graphic novel The Alcazar, now available in English! The book follows the lives of migrant construction workers building a residential complex in Bangalore.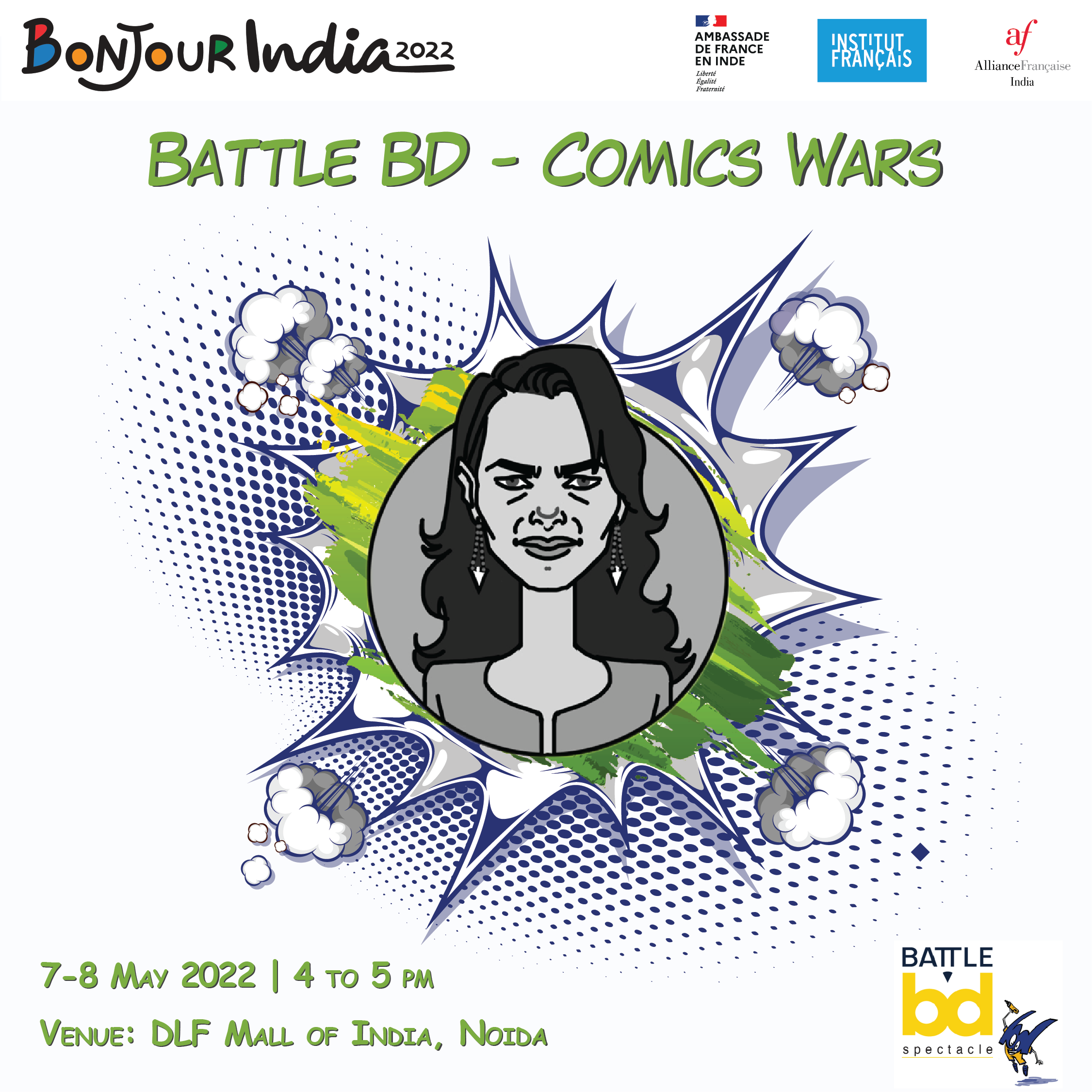 Saturday 7th & Sunday 8th May
Battle BD / Comics Wars
4 pm to 5 pm | DLF Mall of India, Noida
A show promoting comics through live drawing: combining music, humour and interaction with the audience. Much like an improvisation match, the authors compete on stage through drawing, guided by the audience's suggestions and the rhythm of a DJ's playlist. Competing authors must create, in only three minutes, a piece of art which can be poetic, funny, offbeat or even provocative. One of them will be declared the winner. Will their story and art convince YOU?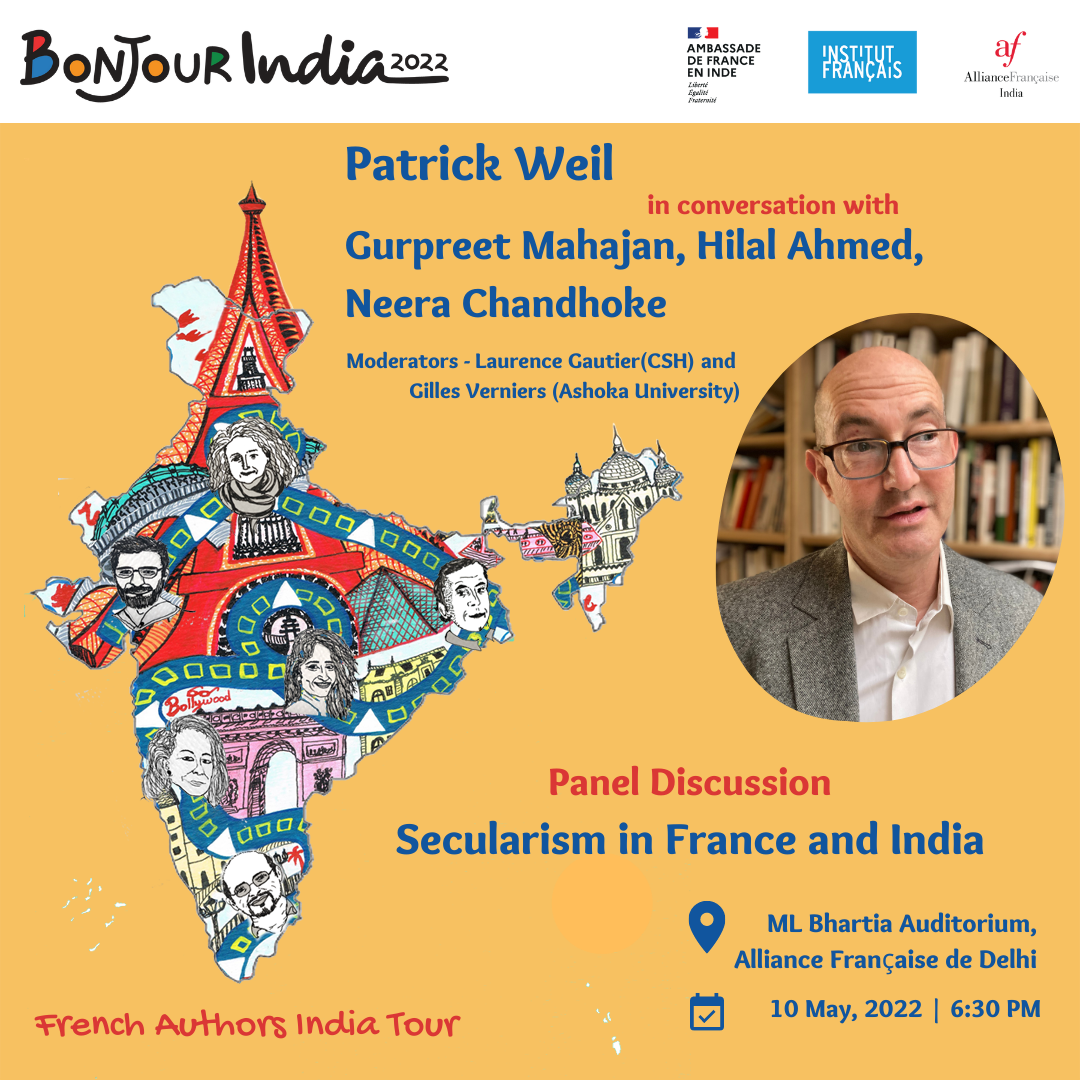 Tuesday, 10th May
Discussion: Secularism in France and India
6:30 pm to 8 pm | Alliance Française of Delhi, 72, Lodi Estate, New Delhi
Patrick Weil in conversation with Gurpreet Mahajan, Neera Chandhoke, and Hilal Ahmed
Session moderated by: Laurence Gautier (CSH Delhi) & Gilles Verniers (Ashoka University)
French authors' India tour | 7th May onward
French authors are travelling across India to meet their readers and exchange with Indian authors and publishers. Meet them during their tour in Delhi, Ahmedabad, Bengaluru, Kolkata, Chennai, Pondicherry, Pune, Mumbai, Jaipur, Hyderabad and Chandigarh.
To know more about each writer and about their programme, click here: French Authors India Tour
Tiffany Tavernier
François-Henri Désérable
Patricia Loison
Marie Darrieussecq
Patrick Weil
Marie Desplechin
Simon Lamouret
Anaïs Depommier
Cyril Nguyen Dinh
Christine Jordis
Jul Berjeaut