Wall Art Festival
The Goncourt Choice of India
Prix Goncourt, one of the most prestigious French literary prizes in the world.
47 Indian jury members discovered 4 books for the Goncourt choice of India. Their choice will be announced on 5th April 2022 by Philippe Claudel and Pascal Bruckner.

The most prestigious French literary prize created in 1903, The Goncourt Prize has been internationalized in 27 countries for 20 years now in the form of The Goncourt Choice. In 2022, India proudly joins this illustrious list thanks to the collaborative efforts of Indian francophone students who love literature. The prize is supported by 10 institutions, comprising the network of Alliances Françaises as well as 9 universities across India.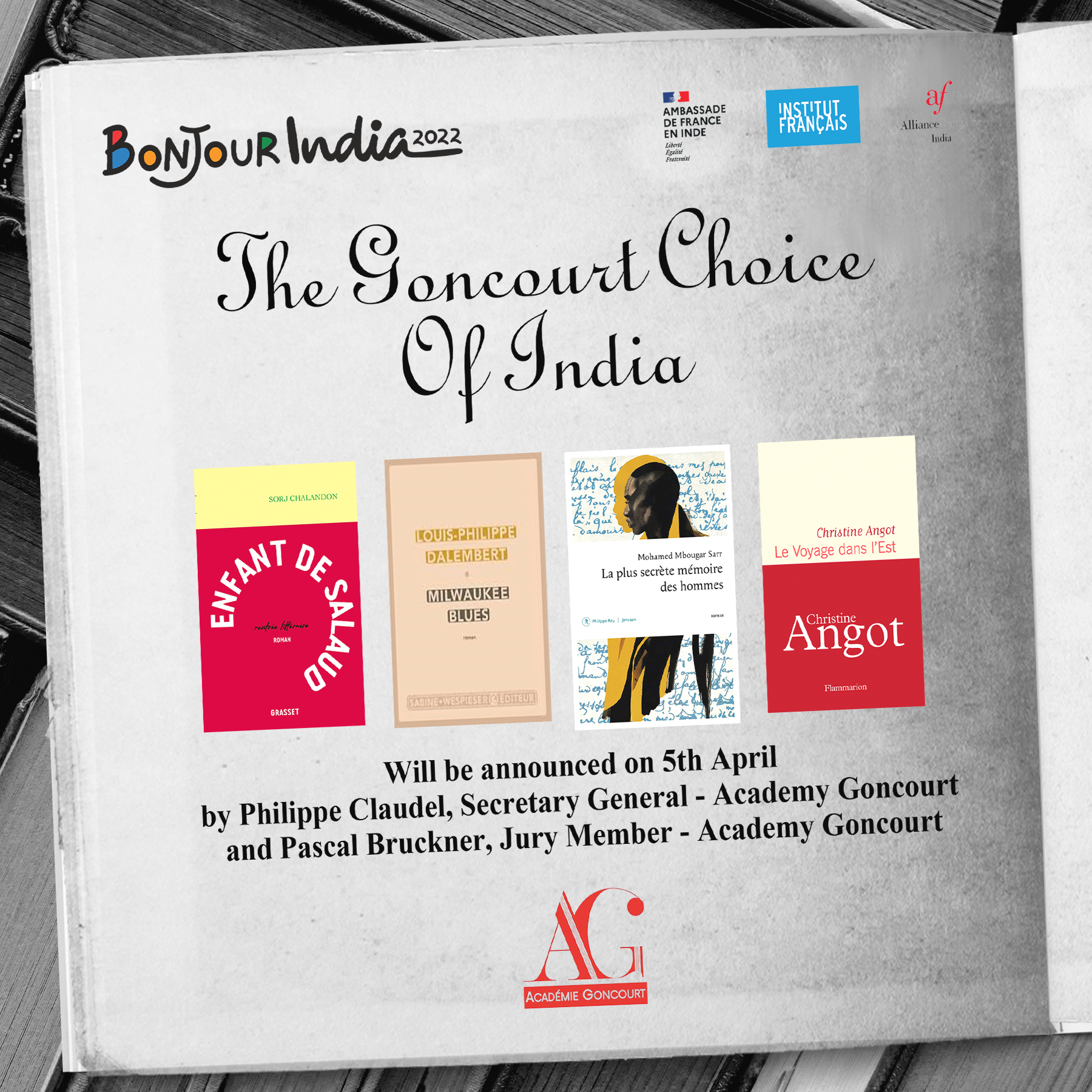 The contenders:
Le Voyage dans l'Est by Christine Angot: a powerful novel, which addresses incest by taking on various viewpoints, that of the child, of the teenager, and finally of the young woman.
Milwaukee Blues by Louis-Philippe Dalembert: poignant portrait of an ordinary man made extraordinary by his terrifying death. With his customary verve and wit, Louis-Philippe Dalembert presents us with a lovable, familiar character.
La plus secrète mémoire des hommes by Mohamed Mbougar Sarr: an astonishing novel about choosing between living and writing, about the desire to go beyond the confrontation between Africa and the West.
Child of a Bastard by journalist Sorj Chalandon, a personal book confronting the disturbing truth exposed during his youth that his manipulative father had been a Nazi collaborator during the war.
The Goncourt Choice of India Laureate will be translated into Indian languages and will be supported by the IFI's PAP Tagore programme.
Organized with the collaboration of: